Case Releases:
1.0 DPDHL Startup Lab "eCommerce in Reverse"
2.0 Data-driven Business Models in Retail, AWS Next Gen Retail

Summary & Key Learning
2018 I started at the DPDHL Startup Lab to tackle theNew Retail & Logistics Industry. DPDHL owns more than 13.000 Parcel Shops in Germany and I caught a real user problem on my own. In different iterations I rethought not only the problem / solution aspects.
At the end I came to the point to break with the IoT Decision Framework! The reason was Retail is not a Core Services in Logistics of DPDHL, the Parcel Shops are build of a franchise-partner network and without owning customer data as well, a business model doesn't make sense. But I learned a lot about New Retail and Use Cases for Retail Industry without Logistics. These I like to showcase high level in this area.

Additional comment: The Smartphone is most relevant IoT device in Brick and Mortal business. It's more than the bridge from eCommerce to Retail in real world. So it's relevant to analyse the CRM data from all channels to create the most value, but also multi-sensors are inside!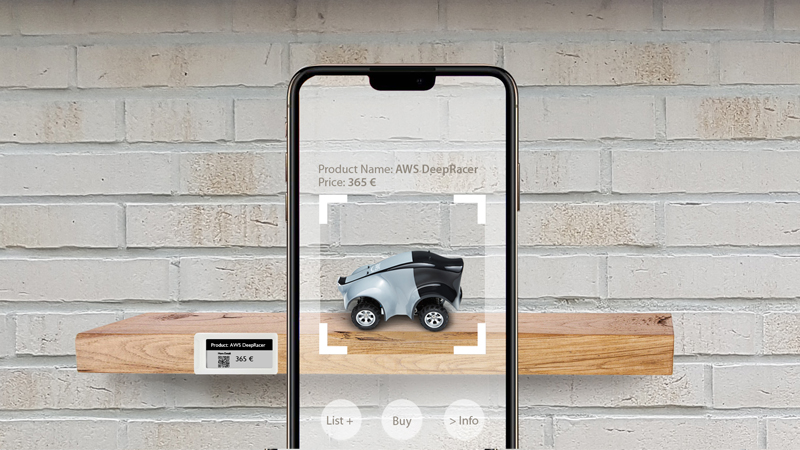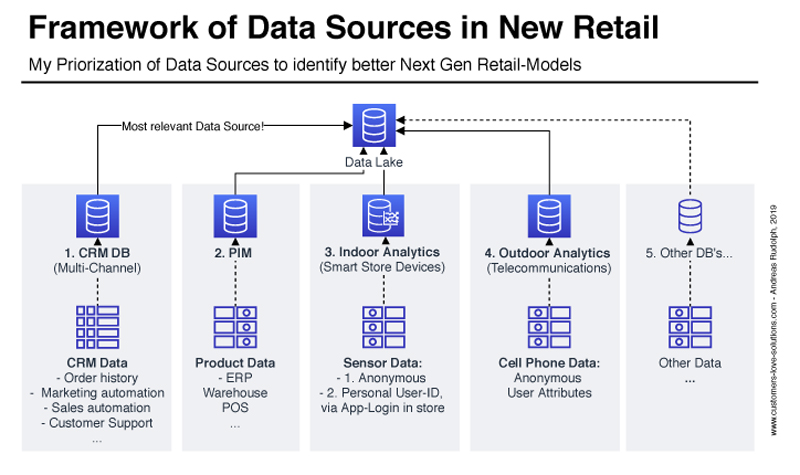 6. Data-Driven Business Model in New Retail
Problem
Customers behave in a cross-channel way. Researching and storing articles in the shopping basket online and maybe try out offline and buy again online. Or in vice versa.
Solution
Create a CRM Data-Concentric Model and use Customer Data online and as well offline in stores, if the customer enters your store maybe using your app.
Decision
Further Iterations: Focus this approach!
This approach is a competitive advantage in retail to focus on! From data strategy, focus on data with most value for your business first! 1st CRM Data of your existing customers, combined with 2nd PIM Data to create additional features, e.g. Electronic Shelf Labels (ESL) or show product data at smart screens. With lower business value think 3rd about Indoor Analytics Data from smart retail furnitures or devices. And 4th, if you need new customers from the environment of the store, think about solutions using anonymous cellphone data (OutdoorAnalytics).
To achieve this, a cloud-based Micro Service architecture is essential, to release fast, to build each process only ones for all channels. And a lot of online and offline connects are provided by the multi-sensor device: customers smartphone.
5. Data-driven Customer Journey (Outdoor Analytics)
Problem
If your brick and mortal business is not connected to your CRM Data before Checkout process in the store, you do not know the customer data. You need to catch attraction of maybe existing or new customers for your store to collect data.
Solution
Use Telecommunications data from cellphones in anonymous way and learn about the attributes of the customers close to your store. If you know some insights about customers close to your entrance of the store use e.g. smart screens to show specific advertisment for the target group you identified outside your store.
Decision
2. or 3. Choice only to rethink, if no CRM Data is available! Outdoor analytics data from telecommunications is also avialable, but it can help only for new business with unknown customers. At the end the scattering losses are much wider than build your strategy on the database of CRM data in a holistic access to all your sales channels.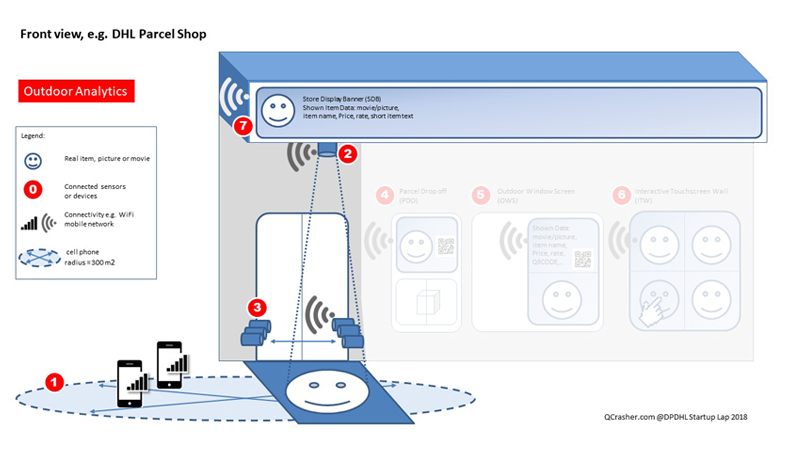 4. eCommerce in Reverse
Problem
If you are retailer with one to three stores and maybe a web shop, how to enlarge your local range to present your articles towards more customers?
Solution
Use e.g. a Smart Touch Screen at other places like a parcel shop or a shopping mall and customers could order via touch screen and use the local checkout processof the parcel shop or store it's installed in.
My Decision
Recommendation: Use only regional in high digital locations.
It's a solution for a strong digital population. If there isan existing Touch-Screen Infrastructure to use including Checkout process it's an advantage for a "Yes" decision and you also need PIM Data to display the article digital.
If no infrastructure is given and no PIM data for eCommerce are available the business risk to fail the ROI is high!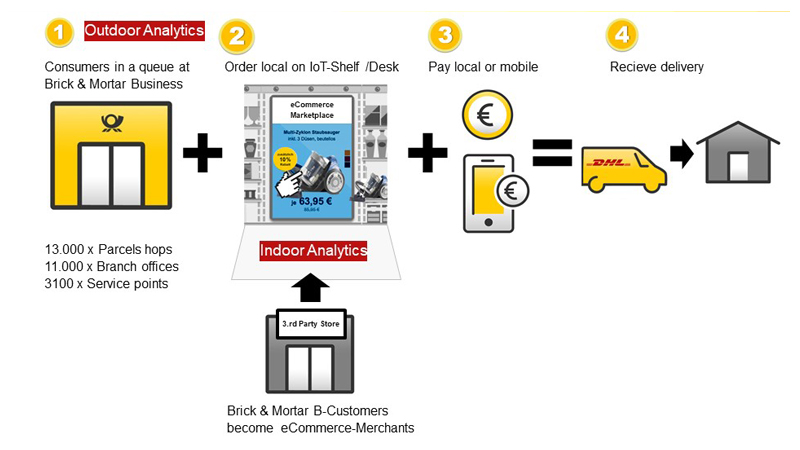 3. Automation in Retail: IoT Shelf
Problem
Create a process of automation to increase the customer interaction at the point of sales and the retail supply chain process at many stores without human support.
Solution
1. Automation of interaction: Build an IoT shelf use a sensor carpet (IoT for Indoor Analytics) to measure, if a customers steps in front the shelf. Show relevant article informations and/or advertisments about the product. Other tools are camera technology, movement sensors to track humans in front, to mention a few.
2. Automation of the IoT Shelf (Supply Chain): Use weight sensors to measure the number of articles. Send a alert if the order number is achieved to order new articles autonomous.
Decision
Reject the approach! It's like Amazon Go Store! Technologies provides a solution, but it's not scalable and no ROI achievable at the long run. E.g. if you change one product in the IoT shelf, you must re-adjust all sensors,not only weight, also the size per item is essential I learned from my IoT shelf prototype! And this is not possible in automation and not a cost reduction.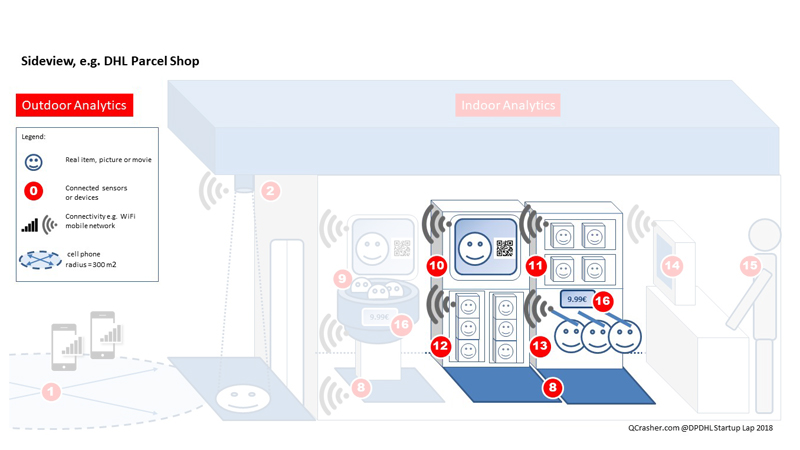 2. 3rd Party Vendors in Parcel Shops
Problem
If a 3rd party vendor sells at a limted space his goods in many diffrent shops, a cost problem is to send the stuff, check in huge numbers of stores/parcel shops, if the goods are still available in his own shelf.
Solution
Use weight sensors at the bottom of your Cute. If a alert number of goods is reached a alert to refill is send to the stuff of the 3rd party vendor.
My Decision
Reject: There is a patent no. DE 102 007 030 930 B4 2009.08.06 from a pharmacy vendor with the focus on a container system for transport, presentation and storageof goods. If your core business is not in the area FMCG
this use case is a waste of time!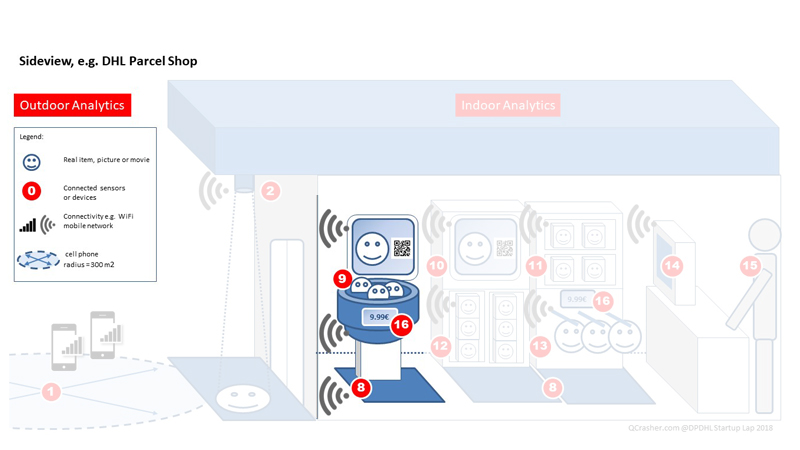 1. Human Queue in Parcel Shops
Problem
Long queues at the weekend in the parcel stores only for one returned parcel is a huge waste of time. This was my starting problem at the StartupLab to think about opportunities in New Retail!
Solution
Parcel Lockers and Service Machines at each door of aParcel Shop. Or use only the next Parcel Locker in your area!
My Decision
Problem is nearly solved! Improve the number of unattended parcel lockers and self-service parcel automations, maybe close to the store and it's done! The one customers with focus on one need "send parcel" only want to complete their parcel relevant task without any attention to additional services!