Case Releases:
1.0 In general IoT Decision Framework
2.0 Focus: Architecture in the Cloud & ROI

#Intro
I caught this problem by talking to our Smart Trucking Team about visualization of asset management and the challenges for customers and company as well. Coming from an IoT approach of tracking sensor data, soon I realized a brought variety of opportunities based on a data lake. Smart Container is a great single use case to show how to break the data lake possibilities apart.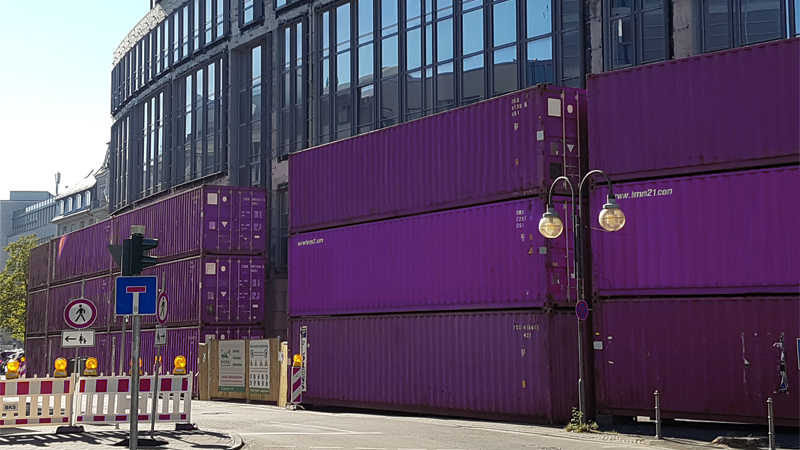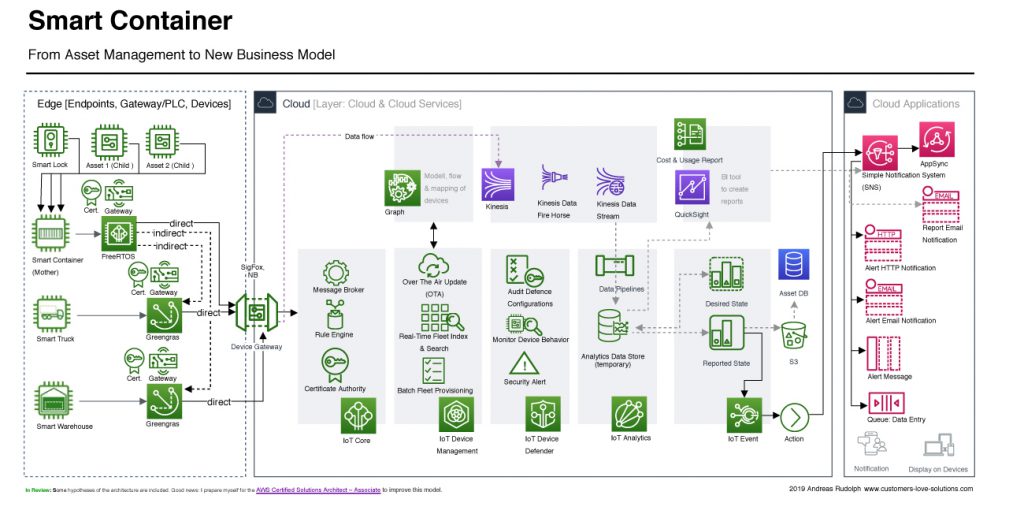 #Problem Statement
Not returned Container is the main challenge for the logistic industry.
From a customer-based view it is a great advantage to keep containers for a longer time without returning them to the owner, e.g. the carrier, logistics supplier. The value is having extra space everywhere and as long as required and temporary available in a secure environment for expensive equipment & machinery.

From the logistics company point of view a 40 Feet standard container is not trackable, so no monitoring is possible. To buy one costs about ~6000 €* at Alibaba.com and a logistic supplier makes only profit by transporting goods, best case full loaded non-stop.

* Entry price without any further specifics or standardizations.
#Value Proposition "the Solution"
Make the container smart and create additional value for the customer by providing the state of his goods and the container. From asset management we shift to a new business model, by rent or sell Smart Containers. Additional we sell a cloud-based service to visualize the whole supply chain of the container and the goods inside, monitored for the customer.
Interaction in the process of the supply chain is possible, if the good is damaged and has to be replaced. But the full interactions variety is outside the MVP.
#Product
Rent Smart Containers including cloud-based Supply Chain Visualization.
#MVP / Release Goal
Provide a system for tracking location of the Smart Container and the status of door opening / locking e.g. for some insurance scenarios. All users from Customer to Logistics Company can track if the container is longer then one day at the customers location to charge this temporary storage and container usage.
#Target Costumers / Sector Industries
Equipment & Machinery, construction and manufacturing industry.
#Size of Target companies
Medium – Large Size
#Summary & Key learnings
To get a short overview about opportunities and challenges in the logistic industry to use a Smart Container,I'd like to give you some key aspects to think about and to share some key learnings from the case.

Less than 1% on an global fleet of 20 million containers currently are tracked, but a rapid growth can be expected in a few years. Technology is not the challenge. There are tracking solutions in the market in the level of
well scaled products, so it's no greenfield anymore. But still very fast new solutions and prototypes are created, e.g. in relation to new sensors getting power of the net or new network technologies, like 5G bringing new
opportunities to the market of asset management. So don't reinvent the wheel! Just solve the problems your business customers have.

Existing solutions are good for a decision and help to make finally the decision, to make or buy a solution or combine and adopt best practices from the market in combination with our existing core IoT cloud platform.
Some links:
– Inexpensive nanosatellite-based IoT http://myriota.com
– Self-powered tracking sensor www.eng.mcmaster.ca
– On-demand Goods & Asset Monitoring: www.roambee.com/platform/
– Battery-free Bluetooth Sensor Tech: www.wiliot.com/
– Smart Container Solutions: http://traxens.com
– eSeal: http://www.esealstore.com/techspecifications.php
– End-to-End Supply ChainTracking  www.globetracker.com/  
The Decision Framework: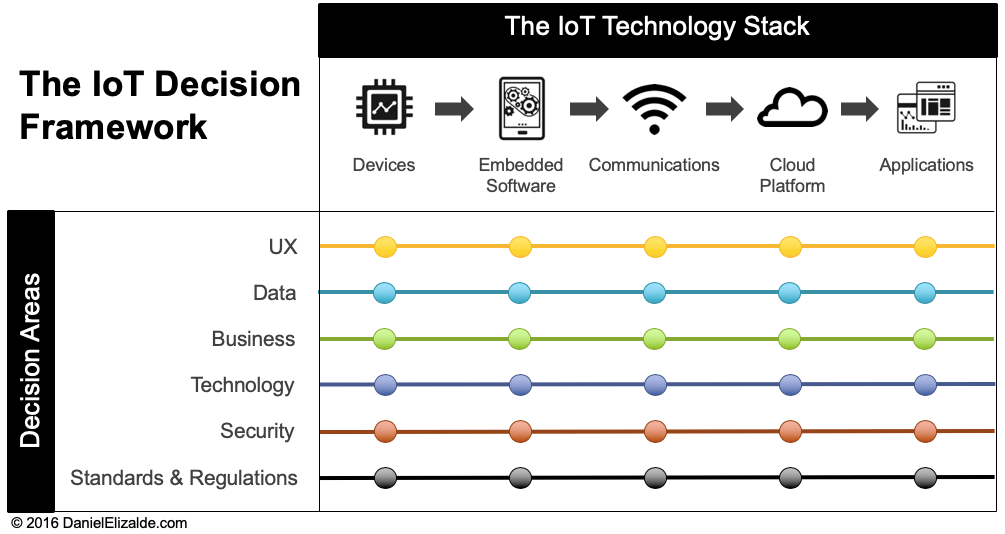 If you would like to learn more about the framework, click here: https://danielelizalde.com/iot-decision-framework/
#UX
This area is about identification of different user and roles using the solution at the level MVP / target release
goal of this solution. That means for their activities, there is a different usage expected, therefore are maybe
other features required and not all are part of the MVP, but in the backlog, the solution roadmap.

Core questions to answer are:
– Who is the Customer? Who the User?
– What is the key value for each of them?
– What is in essential for MVP vs. Backlog and Roadmap?
– Do we have different user groups? Customers, extern vs. intern partners?
Describe your personas as clear as possible to help all team members you need to build this solution.

External User Group:
————————————————————–
1. Simon Supplsky, 31 y., Suppy Chain Operator,
[primary customer persona], direct report of: 2. Paul P.-O., ext. Customer

Activitities/Responsibilities:
1.1. Management of E&M per supply project of each location
1.2. TMS: Schedule, order Pickup & Delivery of Smart Containers
1.3. Monitoring State of Smart Container, connected E&M inside
1.4. Quartly report of all tracked states per project, location.
————————————————————–
2. Paul Project-Owner, 38 y., Project Manager, direct report of: 3. Olaf O., ext. Customer

Activitities/Responsibilities:
2.1. Project responsibility: manage and monitoring of project, E&M, raw material, workforce
2.2. Weekly report of project status, E&M, raw material, workforce
(current reports, incl. historical reports)
2.3. Simon Supplsky is directly reporting to him
————————————————————–
3. Olaf Owner, 45 y., E&M Construction Company Owner, ext. Customer

Activitities/Responsibilities:
3.1. Decision Maker for all construction projects (responsible for ROI of the business)
3.2. Review quarterly reports
3.3. Paul Project-Owner is directly reporting to him
————————————————————–
Internal User Group:

4. Fred Fix, 46 y., Operations Engineer, int. User
Activities/Responsibilities:
4.1. Monitor health of physical Smart Containers & Sensors
4.2. Maintenance of Smart Containers, e.g. long-life battery exchange.
4.3 Keep edge software up-dated on device monitoring
————————————————————–
5. Clare Customia, 28 y., Customer Satisfaction Manager, int. User

Activities/Responsibilities:
5.1. Supporting provisioning of solutions for new customers
5.2. Consulting & Training for new users
5.3. Sales Support
===================================
Prio – Persona – Requirement (Activity) for the MVP:

1 – Simon Supplsky –Monitor states of E&M and other sensors
2 – Simon Supplsky – Schedule, order Pickup & Delivery (TMS-API)
3 – Paul Project-Owner -Monitor complete project & aggregated view of edge devices
4 – Clare Customia –Provisioning initial set of solutions for new customers
5 – Fred Fix -Monitor health of OT, receive alerts
6 – Fred Fix – Maintenance of edge devices and it's sensors
#Business
The area business is were the rubber hits the road!
Good to review your business model and to check, if ROI is given!
The area of revenue is divided into one-time and recurring revenue, in the overall layer solution in the stages of customer lifecycle management, CLM are: Install, Provision, Onboard, Operate, Maintain, Decomission. But as well there are revenue opportunities on the level of the IoT Technology Stack: Device, Device Software, Commuications, Cloud Plattform, Cloud Applications. Same logic applies to the cost: One-time and recurring cost at the CLM level and per Technology Stack.

One-Time Revenue:
1. CLM/On boarding: Consulting and Training Customers Ops-Team = 6000 €
2. Device Software layer: TMS data integration = 2.000€
3. Cloud Platform layer: Additional customizations= 3.000€

Recurring Revenue:
1. CLM/Subscription payment for using the solution = 30.000 €/p.a.
2. Devices/Multi-Sensor (185€/p. unit) = 222.000 €/p.a.
3. Communications/SigFox = 21.600 €/p.a.

One-Time Costs:
1. Installation(Sensors in Container): 10.000 €, total
2. Provisioning: 5.000 €, total
3. On boarding: 2.000 €, total

Recurring Costs:
1. CLM/Maintenance of Hardware & Replacement = 60.000 €/p.a.
2. Devices/ Multi-Sensor Vendor (115€/p. unit) = 138.000 €/p.a.3. Communications (1€/100 messages a day/p.u.) = 3.528 €/p.a.4. Cloud Platform (10.000 € flat) = 10.000 €/p.a.

Gross Margin
1. Year: = 56.072 € (20%)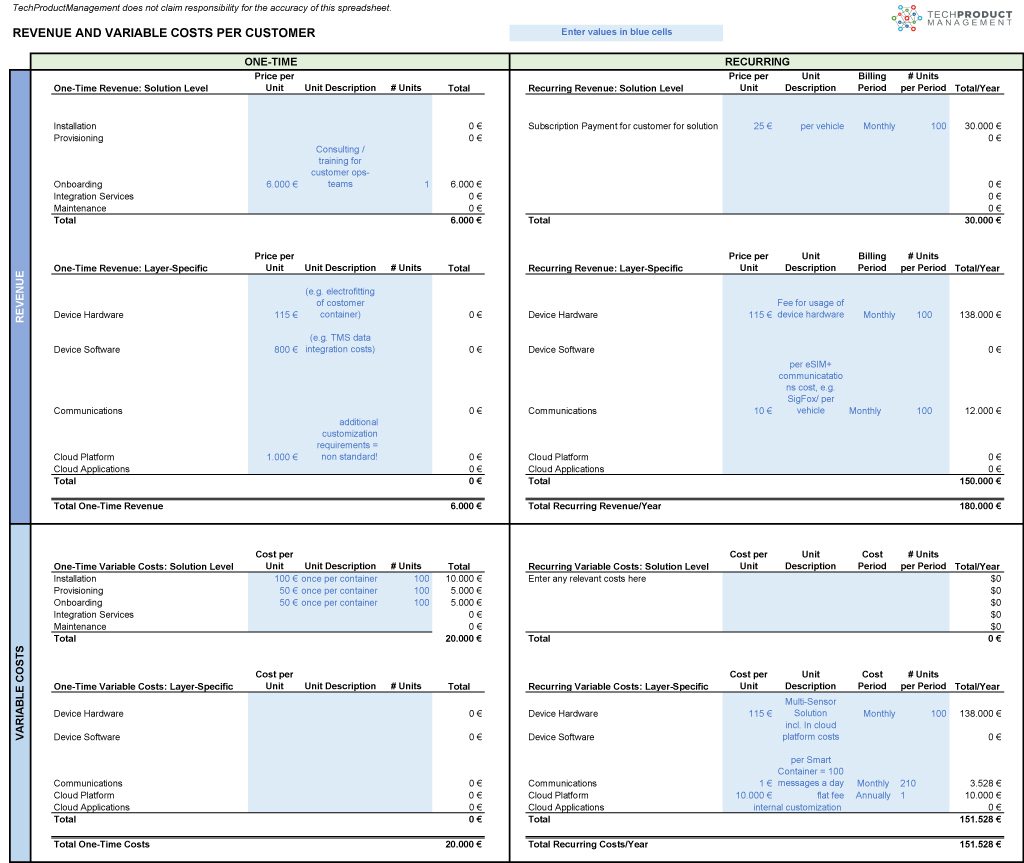 | | |
| --- | --- |
| Device | Buy: E.g. Multisensors of Roambee |
| Device Software | Buy: Part of the Sensor Vendor |
| Communications | Buy: Sigfox. Preferred Communications Provider for Asset Tracking |
| Cloud Platform | Build: Build an API integration for existing Azure platform to synchronize and normalize data input from existing tracking solutions |
| Cloud Applications | Build: Customize Reports, Alerts for all user groups via app, portal and as queue for M2M export |
#Data
Therefore we need nearly real-time location data of the smart containers for the core business approach, rent a Smart Container.
To provide additional use cases for our customers tracking of Child Beacons for the Equipment & Machinery inside is possible. The data is send to the mother device, the multi-sensor gateway connected to the cloud. The analytics are based on nearly real-time data at the cloud platform, to reduce the need of performance on the device hardware level. If a pre-defined critical datastate is reached, an alert message is send by the rule-engine.

Relevant data states:
· Location of Mother Multi-Sensor-Gateway (Smart Container)
· Location of Child Beacon (E&M inside Smart Container)
· Dwell time
· Vibration
· Smart Lock logfile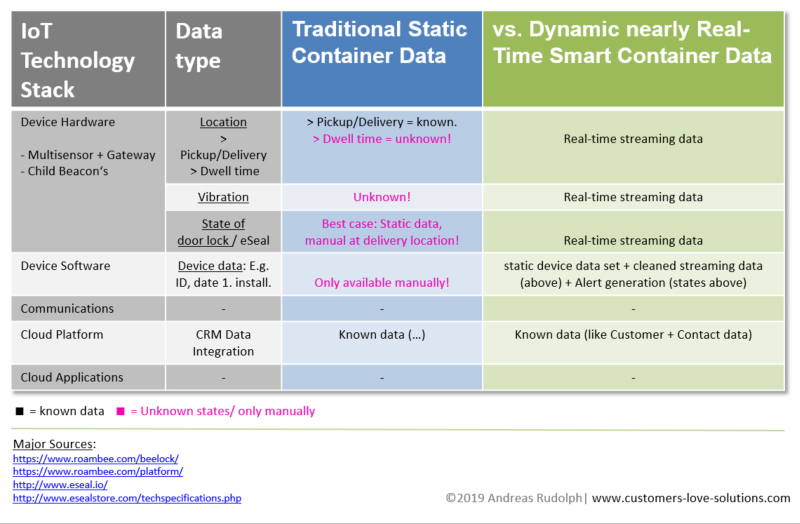 #Technology
At the Device layer we buy a solution from the shelf, like the multi-sensor solutions of Roambee including a SmartLock for the door. The SmartLock and two additional Child Sensors are placed at two equipments inside the container. The SmartContainer is the Mother-MultiSensor Group and provides the function of a Gateway. It sends the data directly to the cloud or if a SmartTruck or SmartFulfillment Center is close, it uses these devices as an other gateway to save energy and reduce complexity.
At the cloud AWS Kinesis Fire Horse normalize and optimize the data, before Kinesis Data Stream and further components do the analysis. If there is a delta between reported and desired state, an IoT event could be triggered. At the level of Cloud Application notifications, messages or reports generated by QuickSide are available on different devices of the users.

If Roambee is the choice of the solution we could use their AWS Cloud Infrastructure and need only some customization on the Cloud Application layer. The solutions is mostly a buy decision.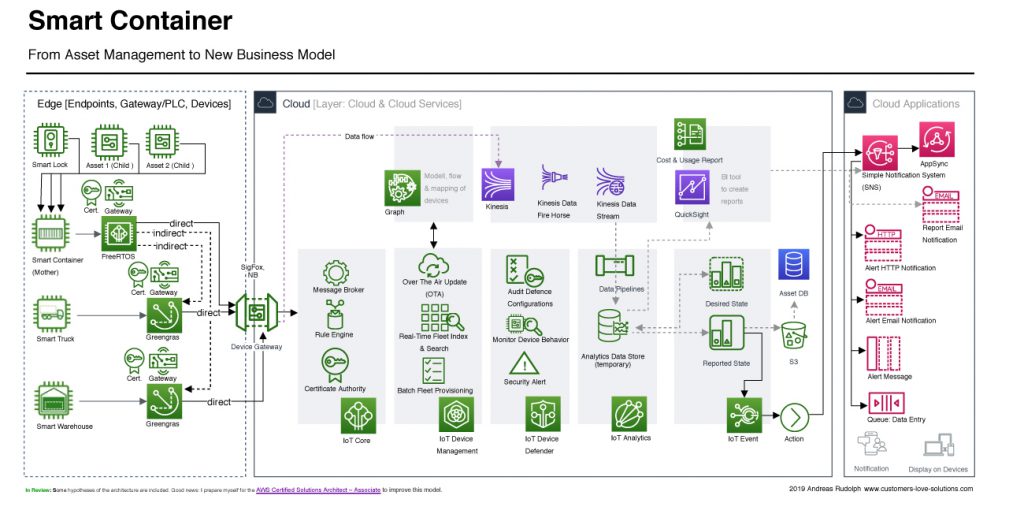 #Security
In general security is a topic for OT and IT in all layers of the IoT stack of technology! Additional industry, country specific requirements are relevant!

Security requirements in general:

Device:
– Automatisation of Provision and Decommission in remote-areas and in your company buildings
– Use devices prepared with eSIM's, Device Certificates before provisioning
– Limitation of physical access to the OBD-II plug and eSIM, maybe a lock?
– While 1st time of OBD-II plug is connecting to the cloud, access is only authorized for devices with valid devices certificates

Device Software:
– Over the air Updates (OTA),
– Security Alert from IoT Device Defender
– Accept only devices with valid devices certificates signed of Certificate Authorithy
– A reboot process must be ensured
– Store data temporary if Connectivity breaks down for a short periode of time (max. 48h)

Communications:
– Restriction of IP-Adress for reception of data
– Monitor any unusal interuptions of connectivity


Cloud Platform:
– Operational Security Attestation C5 – IT-Security strategy with BSI standards https://aws.amazon.com/compliance/bsi-c5/
– Location of storage: No mirrored data storage outside the EU! Especially not in the US!
– Define security guideline
– Define a role like: Information Security Officer (ISO)
– Link to your Identity & Access Management (IAM), like Active Directory, OpenLDAP- or Jump-Cloud-Accounts (JumpCloud: Directory aaS)
-Security Rules & Rights
– Delete the initial root password!
– PW rules
– Allow only required, timed access and rights
– Delete unnecessary data
– Encrypt all stored data! Store no data unencrypted!
– Security Audits as part of your Security Guideline

Cloud Applications:
– Security- & Update for all applications (App's, portal, download server)
– Use state-of-the art technology stacks, also of 3rd party libraries and software licences you embed to your application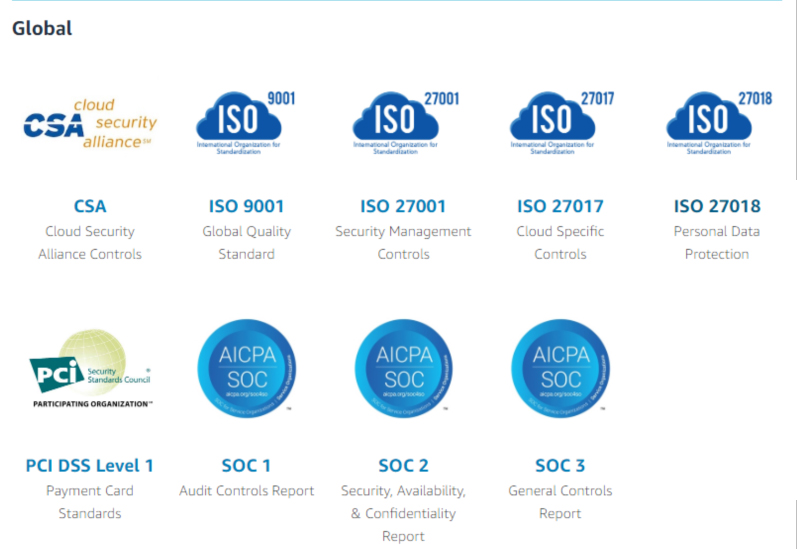 #Standards & Regulations
It's always relevant to know the standards & regulations specific for your industry, the country or maybe your customers or company, before first roll out.  

General:
– Automotive Industry Standard: Trusted Information Security Assessment Exchange (TISAX)  Association of German Automotive Industry (VDA)
https://aws.amazon.com/compliance/TISAX/

– Workers Council:
Are your drivers internal collegues? A permission of workers council is needed before tracking vehicle sensor data (VSD).